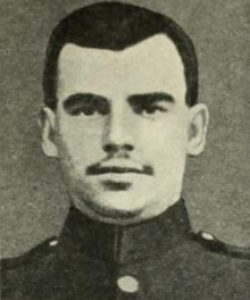 William Stephen
Kenealy VC
Place of Birth
38 Parnell Street, Wexford
Address
Ashton - in - Marketfield, Lancs
Circumstances of Death
Died of Wounds Gallipoli. He was seriously wounded in the Battle of Gully Ravine on 28 June 1915 and died the next day.
Other Biographical Details
Son of Colour-Sergeant John & Margaret Kenealy nee Davis, Bolton Rd. Ashton - in - Marketfield, Lancs. Born 38 Parnell Street, Wexford. Kenealy is buried at Lancashire Landing Cemetery on the Gallipoli Peninsula.
On 25th April, 1915, three companies, and the Headquarters of the 1st Bn. Lancashire Fusiliers, in effecting a landing on the Gallipoli Peninsula to the West of Cape Helles, were met by a very deadly fire from hidden machine guns which caused a great number of casualties. The survivors, however, rushed up to and cut the wire entanglements, notwithstanding the terrific fire from the enemy, and after overcoming supreme difficulties, the cliffs were gained and the position maintained. Amongst the many very gallant officers and men engaged in this most hazardous undertaking, Capt. Willis, Serjt. Richards, and Pte. Kenealy have been selected by their comrades as having performed the most signal acts of bravery and devotion to duty.
— The London Gazette (No. 29273), 24 August 1915